Previously unpublished data reveal a pattern behind the gentle decline (more rapid descent of you count Covid years) in attendance in the Sydney Anglican diocese. Fewer newcomers in church and an aging cohort of church attendees were revealed in stats supplied in answer to a multi-part question during the recent Synod (church parliament) by Dominic Steele, a senior minister in inner city Annandale.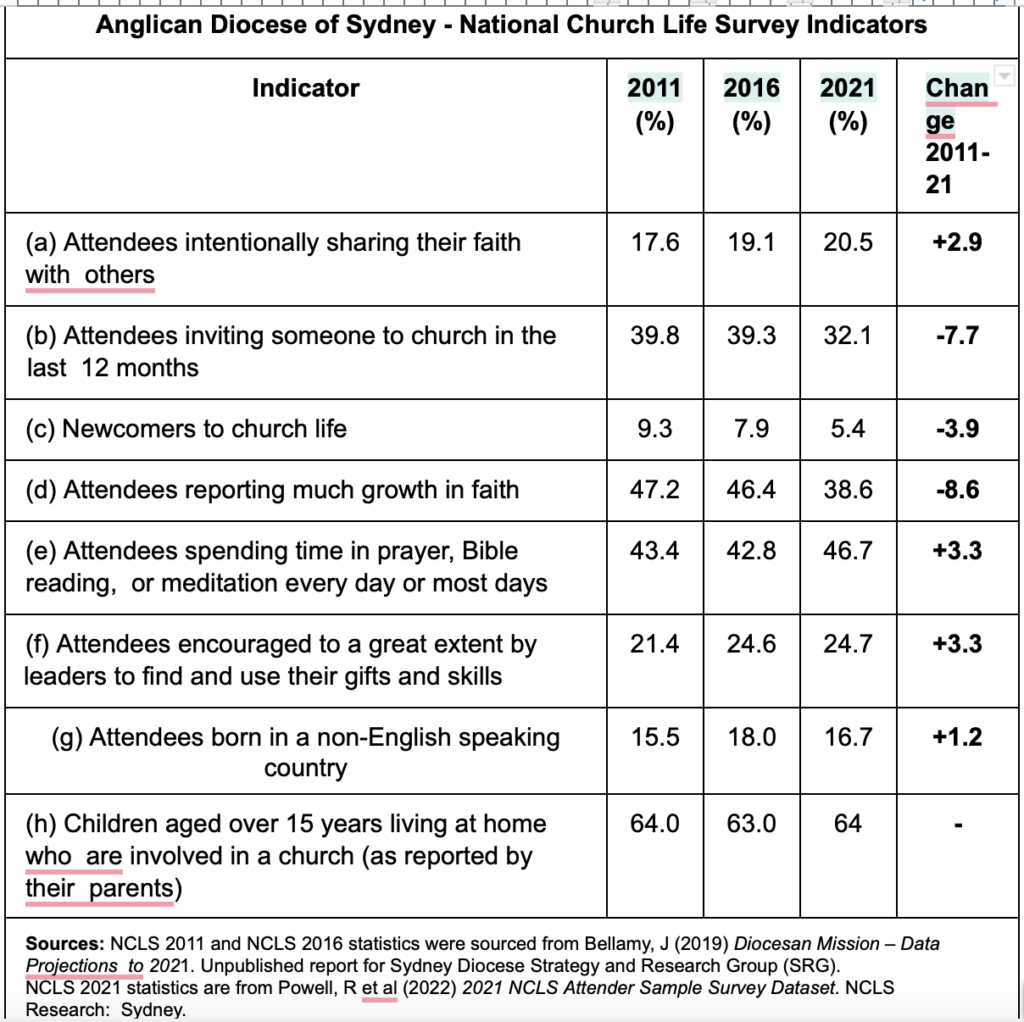 There are some positive stats here. There's an increase in people sharing their faith, and people are spending more time reading the Bible. The pipeline of young people growing up in church families remains steady.
But these are small increases – although all these stats tell their story reliably given a large sample size (25,000 and up) and the work of the well-qualified NCLS Research team.
The decline in newcomer numbers down from 9.3 per cent in 2011 to 5.4 per cent in 2021 – with a 2016 stat of 7.9 per cent indicating a steady downward trend – is not what the Anglicans planned. Their "Mission 2020" target was an increase of newcomers in church to 12 per cent.
Newcomers are not church switchers. We are not talking about how much "transfer growth" is going on in churches when we consider that statistic. Newcomers are defined as people new to a local church, either in their first church or having been unchurched for five years or more.
Dominic Steele, hosting his "Pastors Heart" podcast, expressed strong disappointment with the newcomers' statistics:
"I actually think the third one is the most important one, the newcomers one. And the goal was to increase newcomers in church across the [diocese] from 9% back in 2011 to 12%. I remember [that earlier] it used to be 12%, then it went to 9%, and that was sad. And instead of going back up to 12 as we hoped, it's gone down to 5.4, and that is a crushing number."
How crushing that number is can be seen from a graph from that pod: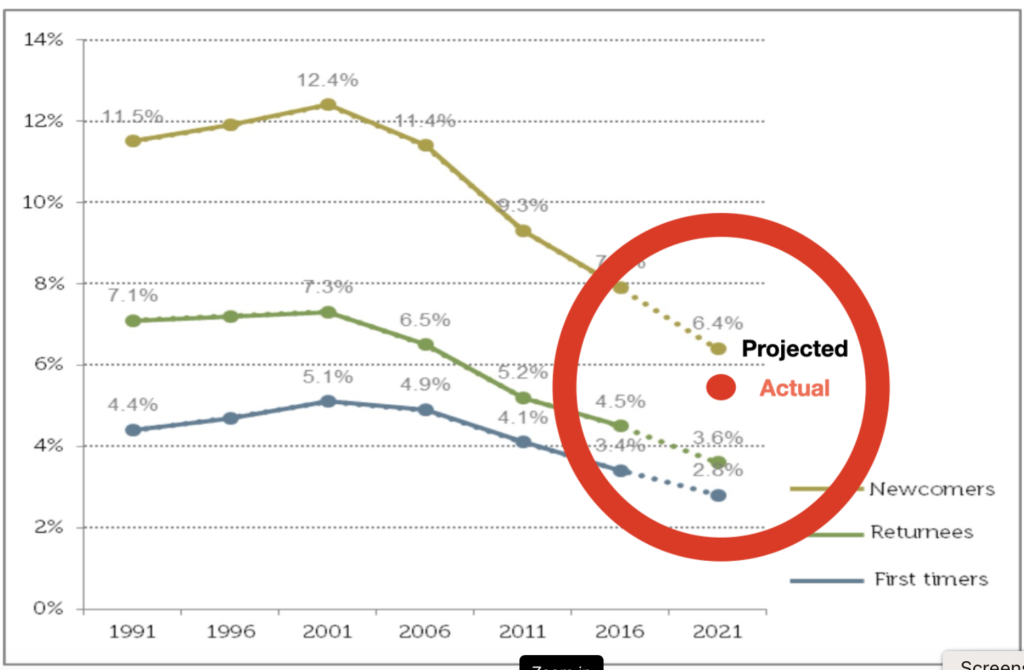 This is not the Covid-affected decline in attendance that The Other Cheek covered in a Synod report. In summary, the last two years of Covid have seen a plunge of 18.5 per cent from the peak, but before then, there was a gentle decline of some .7 per cent each year on average. The plunging newcomers' graph may help explain that: fewer newcomers will mean that church attendance will decline, whether through the faithful who are promoted to glory or in the case of Sydney, migration to other parts of Australia as the city acts as an entry point for emerging communities.
"It's alarming," Raj Gupta, senior minister of Carlingford Anglican Church in Northwest Sydney, told Steele. "It should be alarming for every single one of us because when you think about how a church, let me call it a church system works, you expect what we can call outflows …
"Just looking at the global picture, how many people are now in any church who were not in a church five years ago, it's a crucial number and it's now 5.4%. We should have a week of fasting and prayer."
Discussing to become better at inviting people to church drew an interesting observation from Gupta. Reflecting the results of an Occupational Personality Questionnaire, he observed, "People in ministry are not great implementers but great reflectors, and you put it all together, and there's other things as well, and we are very good at consoling ourselves when we don't implement well."
But as he, Steele and Zac Veron, senior minister at Bayside Church, agreed, the task is one of implementation. "The reality is that we have a large number of people within the ranks of Sydney Anglicans that are the baby boomer generation, said Veron. "I'm a 1962 baby and one of the last baby boomers, and that generation is moving through our ranks, going to glory very, very quickly. And it doesn't appear that there are as many babies."
Reflecting points he made in a speech to Synod, Veron urged Sydney Anglicans to think what might be the most effective ways to reach Sydney for Christ: "If we start with a blank sheet, and this is not easy to do, but if we had 39,600 of us agreeing on a course of action, agreeing on priorities, I believe that the Lord would bless those endeavours and lead us to a more effective place for the current situation and also well into the future."
The big picture behind the discussion is summed up in this graph from Gupta.